"Best-of-the-Lake"
Spring Home Tour
Saturday, April 29, 2023
10:00-4:00
Benefitting
The Library at Cedar Creek Lake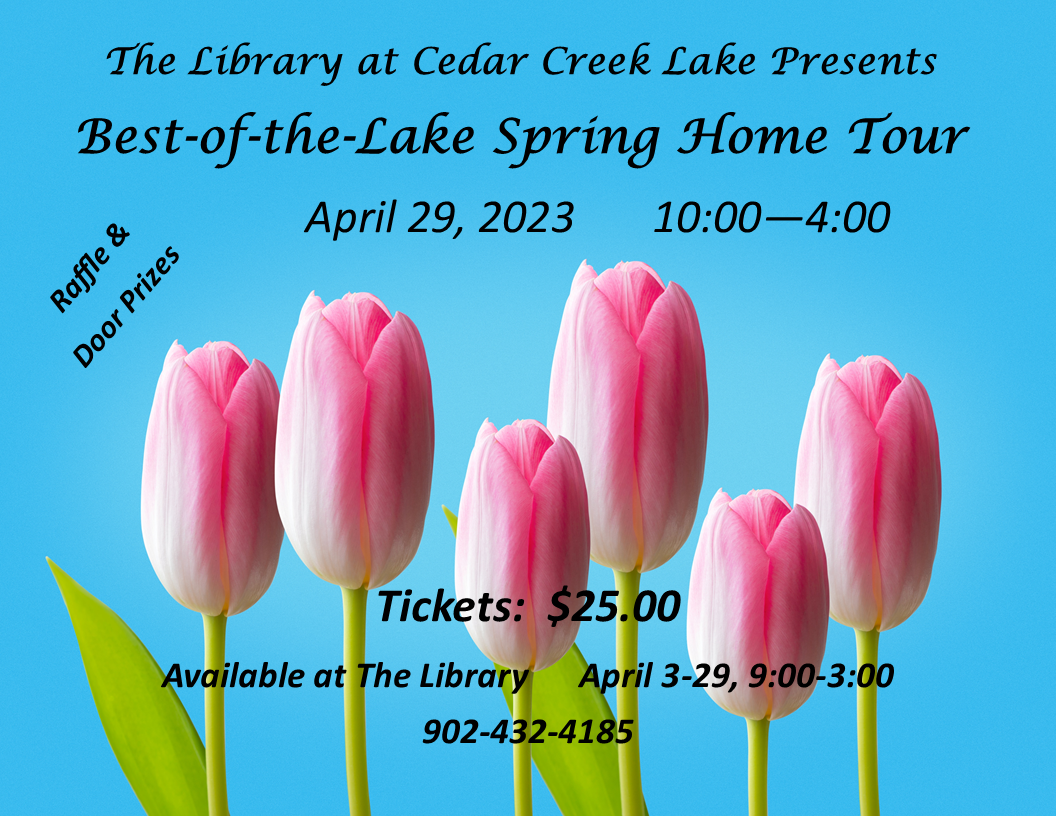 Mark April 29 on your calendars for a full day of touring some of the most fabulous homes on Cedar Creek Lake. The Library at CCL is opening the doors of four private homes and two new entertainment venues around the lake to the public.

On April 29 from 10:00 to 4:00 you're invited to tour four homes with distinctive styles and special features. The home designs range from "rustic modern" to "traditional perfection." The featured properties represent the best-of-the-lake on all sides of the lake, both inside and outside.

With spectacular views from the North end of the lake you will visit a special home located in Beacon Hill. We know you will marvel at the architecture and immaculate landscaping of this "rustic modern" style property. After touring the home you will enjoy a break at Beacon Hill's brand new aquatic center.

Then head South to the City of Tool and enjoy another beautiful lake view from our home in Heatherwood Estates. The owners generously opened their home for our 2019 Christmas Home Tour and are again sharing their beautiful home in a whole new light – Springtime!

Head South around the lake to the Bridgepoint community to tour the largest of our homes. This spectacular property is situated on ten lakefront lots. Wander through the interior and then enjoy the incredible outdoor tulip gardens. The homeowner has also invited you to enjoy his unique car collection.

A short drive North on Hwy. 198 brings you to our second entertainment venue – Waves by W456. Ever the innovators, David and Thomas are inviting you to enjoy their newest destination. Waves by W456 will fast become your favorite place for meeting and entertaining your friends and guests.

Next stop is a beautiful home in Gun Barrel City. You won't know you're in a city when you see the views of the lake from this unique setting. Imagine baking in your own pizza oven while entertaining on this wonderful outdoor patio. Again, miles of lake views from the East side.

Obviously, you can tour our destinations in any order! But, there is more. There is also a chance to win one of three raffle packages: a 2-hour boat tour for 4 of the lake hosted by George Spann, lake naturalist and guide; a ½-day guided fishing trip hosted by Jason Barber, well-known CCL guide and owner of Kings Creek Adventures; and a personal wine tasting for 2 at the Triple N Winery.

Home Tour tickets are available now at The Library at CCL in Seven Points. Tickets are $25 each. Raffle tickets are also available at The Library.


Tickets may be purchased online. Click Here for online purchases.